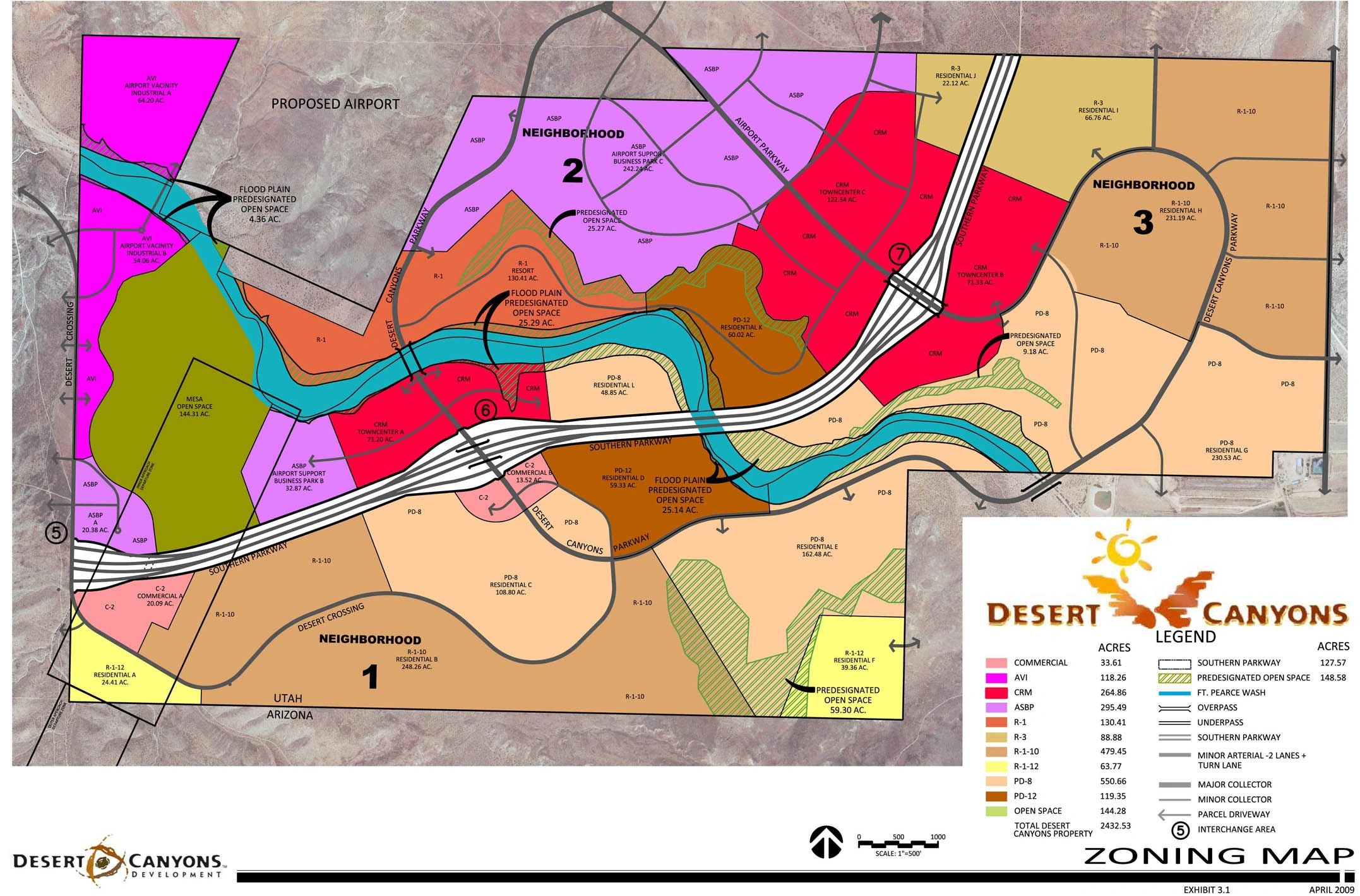 A COMPLETE COMMUNITY
The Desert Canyons master plan provides for a full complement of land uses ranging from 3,800 residential units to hundreds of acres of commercial and industrial parcels. Desert Canyons is strategically positioned to capture the benefits of growth the St. George area continues to experience.


Desert Canyons Contains:

Residential - 1050 Acre
Commercial - 329 Acres
Industrial - 118 Acres
Mixed Use - 265 Acres
Other - 130 Acres
RESIDENTIAL
Designed to accommodate the full spectrum of residential needs, the master plan includes one acre estate lots, large executive lots at 3 units per acre, medium density single family housing at 8 units per acre, plus higher density town homes and apartments to 12 units per acre. The master plan contains distinct residential neighborhoods each containing interconnecting trails, parks, and other amenities.
RESIDENTIAL & MIXED USE PROPERTY
Desert Canyons is offering a total of 1050 acres of residential land and 264 acres of mixed use land containing a total of 3,800 units. Access to the residential lands is provided at each of 3 interchanges along the Southern Parkway.

RECREATION
St. George is a recreational paradise where mild winters and over 300 sunny days a year support year-round outdoor activities for all ages and ability levels. The area boasts over 12 premier golf courses all within a 10 to 15 minute drive from Desert Canyons. For those who like cooler venues, nearby retreats in nearby Pine Valley Mountain offers alpine settings at elevations up to 10,000 feet. Shoppers can enjoy the variety of many unique shops in historic downtown and the Factory Store Outlets. Sand Hollow Recreation Area is just a few minutes from Desert Canyons, where you can enjoy boating and water power sports, and OHV fun on the sand dunes at Sand Mountain.

Desert Canyons is set in an area of breathtaking scenery. Major scenic landforms within the master plan area form the backdrop of a strikingly beautiful desert landscape. Significant areas and landscape features will be protected to preserve the unique character that sets Desert Canyons apart from other developments.